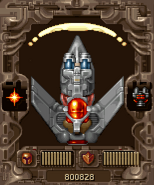 The Stalker 21.126 is one of the ships from Tyrian.
Details
[
]
After destroying the tyrranical might of Vykromod a second time, Trent found himself locked into the future through the Stargate. But that's another story. Now, though, he has returned with his modified Stalker C to reclaim his past.
The Modified Stalker is equipped with an advanced molecular generator which simulates many conventional weapons. But, it also has the power to instantly generate any one of a number of side-ships and front attachments. It's the power of the future.
Trivia
[
]
The The Stalker 21.126 may change to max value 65535 after buying it.