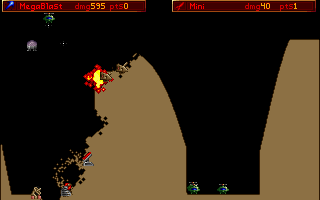 Destruct is a secret game hidden in Tyrian. In order to play it, you must type "DESTRUCT" on the title screen.
Destruct is a strategy game which plays similarly to Scorched Earth, except instead of being turn-based it is played in real time. Player 1 is always set to the right team while the left team is played by the CPU by default. In order to activate Player 2 simply press F10. The game is played entirely with the keyboard. Pressing ESC during gameplay returns to Destruct's mode selection, and pressing ESC at the mode selection returns to Tyrian.
Left Player

F10: Toggle CPU on/off
Shift or X: Fire
Ctrl or Space: Change weapon
Alt: Switch vehicle
A or Z: Change velocity
C or V: Change angle

Right Player

Insert or Enter: Fire
Page Up or Page Down: Change weapon
S: Switch vehicle
Up or Down: Change velocity
Left or Right: Change angle
Game Modes
Edit
5-Card War: Each player controls five randomly selected vehicles.
Traditional: Each player only has one tank.
Heli Assault: Player 1 controls helicopters while Player 2/CPU controls guns.
Heli Defence: Player 1 controls guns while Player 2/CPU controls helicopters.
Outgunned: One player controls only guns while the other controls helicopters and jumpers.
Gun: Fixed vehicle, you can freely adjust it's firing angle and power. There are three different guns, each with a different weapon. Stronger guns have more delay before being able to fire again.
Helicopter: Can move freely, only fires at 45° downwards.
Jumper: Fixed position but can jump. Shoots upwards while on the ground and downwards while in the air.
Repulsor: Can't move of shoot, repels opponent's bullets.