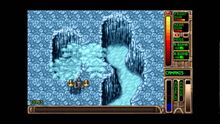 Camanis is one of the planets from Tyrian.
Dining
[
]
Located 2 miles east of the Ultra-secret Microsol research station is the all-powerful Bob Hartley's IceCream-O-Matic. The ultimate in high-powered instant cryo manufacturing facilities, the ICOM system can instantaneously generate up to 3 cubic miles of ice cream, in any of 24 billion flavors.
Microsol has made this possible by purchasing out all other ice cream manufacturing facilities and amassing the recipes of every vendor who has ever existed.
This bewildering decision rocked the world of ice cream futures but made Microsol the undisputed master of all the ice cream in the universe. They take their ice seriously.
Culture
[
]
Not many people enjoy living in the sub-zero confines of this planet. Because of this, they are an extremely proud people, prone to bawling out wimps like you who have climate control. If you visit, be sure not to mention how cold it is unless you want a very one-sided conversation. Steer your topics toward their lovely scenery and extensive museums of ice sculptures.
Entertainment
[
]
A skiiers dream. This is the cold vacation spot of the universe. Millions of ski slopes litter the world, providing entertainment to endless visitors each year. Camanis boasts year-round snow and optional near-zero visibility for the ultra-suicidal skiier. What more could one ask for?
For the friends of those suicidal skiiers who are dragged along on vacation, try out your hand at massive free-form laser ice sculpture. For a small fee per hour, you can have the enjoyment of carving up your very own mountain. If you simply must take it back home with you, Camanis even offers 2nd minute delivery! All you have to do is to find a place to store your mountain and keep it cool. An adventure for the whole family!
Videos
[
]